Entering the Clubhouse, Locker rooms or Pro shop
Members (and guests) must have the NHS track and trace app downloaded onto their smart phone before visiting the club. If this is a problem, please contact the office for assistance.
(The app will be found on either Google play store or the Apple app store depending on which platform your smart phone uses)
Before entering the clubhouse or Pro shop register yourself through the app using the "venue check-in" instructions and function.

Please use the hand sanitiser gel provided before entering the clubhouse
Please note that staff are required to ensure that members (and guests) have registered on the NHS app before they are served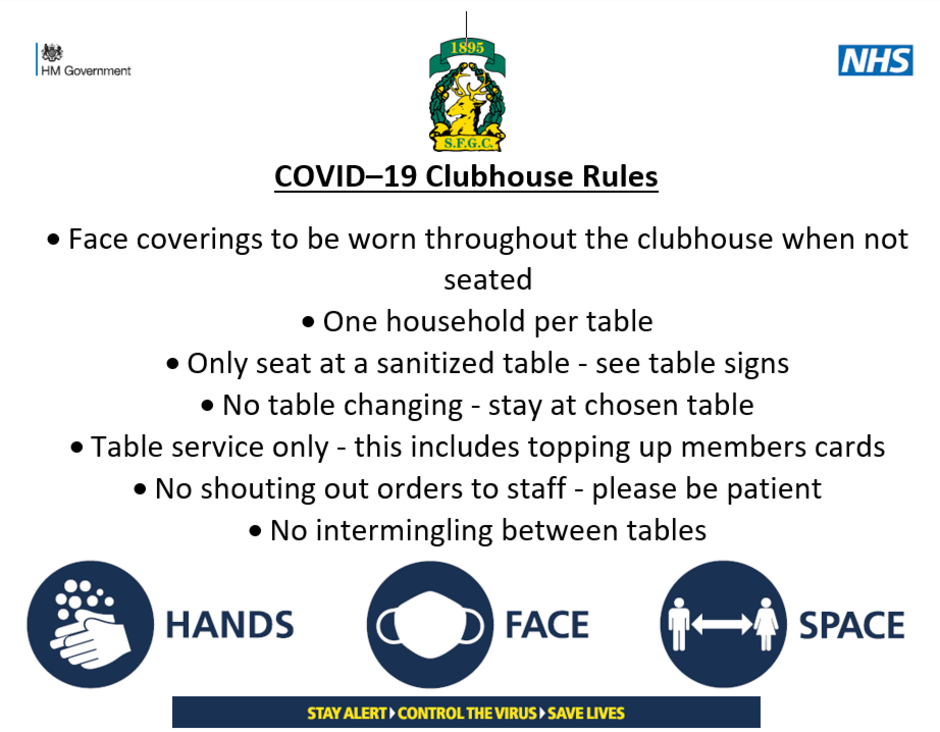 From 14th October 2020 Nottinghamshire is deemed as a "Tier 2" area and is subject to the following restrictions;
Members (and guests) will not be able to sit at a table with anyone outside their household (or care bubble) inside the clubhouse
Members (and guests) will be able to sit in groups of up to six on the patio but must adhere to social distancing guidelines
Clubhouse tables will be set up in the clubhouse with only one chair
Table ordering will stay in place
The Golf course and range has no further restrictions
As now the above regulations are written into law and will result in large fines or worse, if not adhered to, our staff will be asked to ensure guidelines are followed.
Clubhouse opening times;
Clubhouse and locker rooms open from 7am
Bar opens from 9am
Closing times;
Food service ends at 6pm (all days)
Clubhouse/ Locker rooms close 7pm Sunday/ Monday/ Tuesday
Clubhouse/ Locker rooms close 9pm Wednesday/ Thurs/ Friday/ Saturday
Movement around the clubhouse;
The one-way system will remain in place for the main clubhouse, however movement in and out of the clubhouse via the patio area will become a two-way system enabling members and guests to move freely to and from the patio area. We would still ask that members and guests adhere to the social distancing guidelines at all times.
All play is by booked tee times only (at 10 minute intervals)
Clubhouse opening hours during the crisis 9 to 7 pm daily
Toilet access is available from 7am
Alcohol based hand sanitiser is now available from dispensers at all entry points, please use before entering