Brabazon Trophy 2020
David Ravetto hit the accelerator pedal to claim victory at the Brabazon Trophy- after starting a memorable and crazy week sleeping in his car.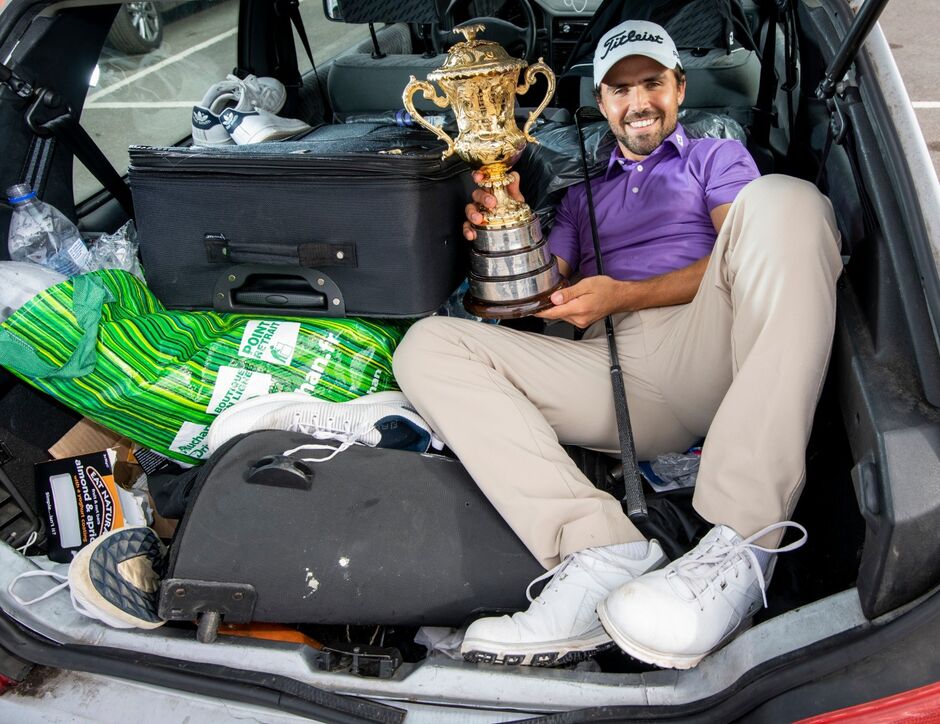 The 23-year-old Frenchman prevailed after winning a three-man play-off against Denmark's Christoffer Bring and Mark Power from Ireland.
All three men finished the 72-hole stroke play event level on -10 after battling brutal winds in today's final round.
Power – who shot a fantastic five-under par round of 66 just to make the play-off having started the day six shots adrift of the leader – fell out of the reckoning after the first play-off hole as both the Dane and the Frenchman made birdie.
Then, after driving the green at the par 4, second hole, Ravetto enjoyed a tap-in birdie and the winning feeling.
Ravetto's journey to the point where he got his hands on the famous gold trophy at Sherwood Forest Golf Club in Nottinghamshire was far from simple.
A week ago, he made it into the UK on a ferry at 2.30am on Saturday – just 90 minutes before new quarantine rules came into play compelling visitors from France to self-isolate for a fortnight.
But having arrived on English shores without accommodation, the Parisian decided to sleep in his car for that first night.
It was perhaps written in the stars that such a strange backstory would have a happy ending. The player ranked 46 in the amateur world could reflect on an odd week after celebrating the biggest win of his career.
"On Saturday I slept in an all-day parking lot as I didn't have a hotel room," confessed Ravetto as he laughed about the night when his battered, 1996 Peugeot 106 doubled as both transport and accommodation.
"The car is one year older than I am, but it is still going! Just.
"I arrived here at 6am and slept for maybe five hours in an all-day parking lot. I sucked it up and played good golf this week."
Rounds of 66, 72, 66 and 70 saw him conquer at various times heat, rain, and 50mph winds to land the trophy.
"I fought really hard and to go birdie-birdie in the play-off was amazing," added Ravetto.
"I'm really proud after the second round when it was raining so bad.
"In the third round I was seven under after 11 holes, but was happy to end five under and then did well today.
"This win is the best of my career."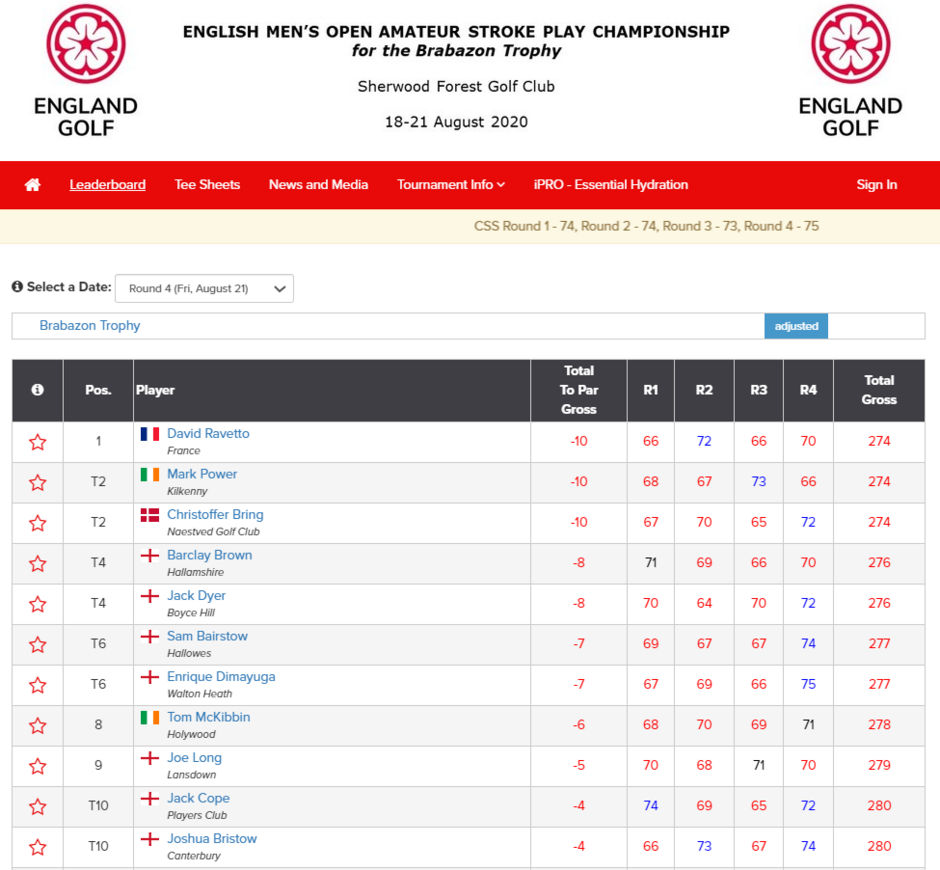 English Seniors Championship 2018
Surrey's Ian Attoe held off a dramatic charge to win his second English senior men's championship at Sherwood Forest Golf Club, Nottinghamshire.
He triumphed in a play-off against Yorkshire's Richard Jones, who had a birdie and an eagle in the last five holes to tie Attoe on two-under par for 54 holes.
Jones (Rotherham) had a putt to win outright on the 18th but, cruelly for him, it hit the hole and spun out.
In the play-off Attoe holed out calmly from 5ft for par to take the title, after Jones missed from a similar distance. "I am overjoyed to have won again and it's most pleasing to do it away from my home course," said the new champion, whose 2015 win was in his senior debut year and at his home club, Worplesdon.
The previous winning experience stood him in good stead. "I held myself together in the last round at Worplesdon and so I knew I could do it again," said Attoe.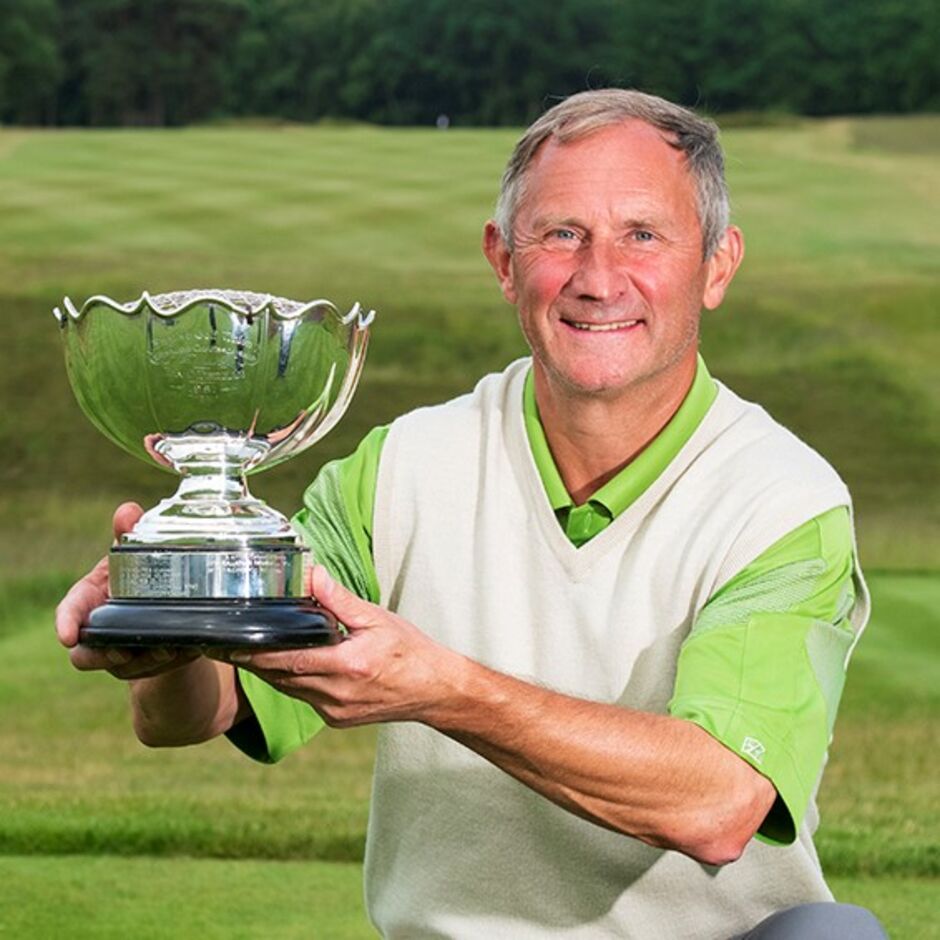 ​​Attoe started the final round one off the lead, held by Jones, and enjoyed chasing, instead of protecting a lead. His main rival, throughout much of the round was Simon Ostrom (Rowlands Castle), who was playing in the event for the first time.
They jockeyed for the top spot, but Ostrom eventually dropped out of the reckoning with a bogey on 17 and had to settle for third place on level par.
Meanwhile Jones had apparently dropped out of contention only to roar back into the thick of things. He was three-under at the start of the round and promptly birdied the second. But his scoring knack deserted him in the middle of the round and he slipped back to one-over par after 11 holes.
However, his form returned on the back nine and he played himself right back into the title race with his birdie on 14 and eagle on 16, where he holed from 35ft.
But the title belonged to Attoe, who played steadily round in level par today, with one birdie and one bogey on each nine. "I played really nicely and, having been nervous yesterday, I was positive today.
"The scoreboard were very useful. I knew where I was and I knew what I needed to do and it spurred me on to hold steady," he said.
Leading scores
I Attoe (Worplesdon) 68 - 74 - 71 = 213
R Jones (Rotherham) 67 - 74 - 72 = 213
S Ostrom (Rowlands Castle) 70 - 72 - 73 = 215
B Hughes (Hesketh) 72 - 75 - 70 = 217
R Kellock (Sunningdale) 77 - 69 - 71 = 217
T Foster (Accrington and District) 74 - 72 - 71 = 217
T Holt (Clitheroe) 71 - 74 - 72 = 217


English Senior Women's Championship 2013
Home win! Janet Melville has won the English senior women's championship on her own course, Sherwood Forest in Nottinghamshire.
She beat defending champion Chris Quinn 2/1, sealing the victory with two great putts on the 16th and 17th. Her win was watched by a crowd of club members who rushed to congratulate her and she said: "It's absolutely amazing to win on my home course.
"Everyone has been so supportive during the week and I'm pleased to do it both for myself and for the club."
But it's not all plain sailing on home ground: "There's been a tremendous amount of pressure playing at home, because you want to do well and it's very difficult when it's your home course," said Janet.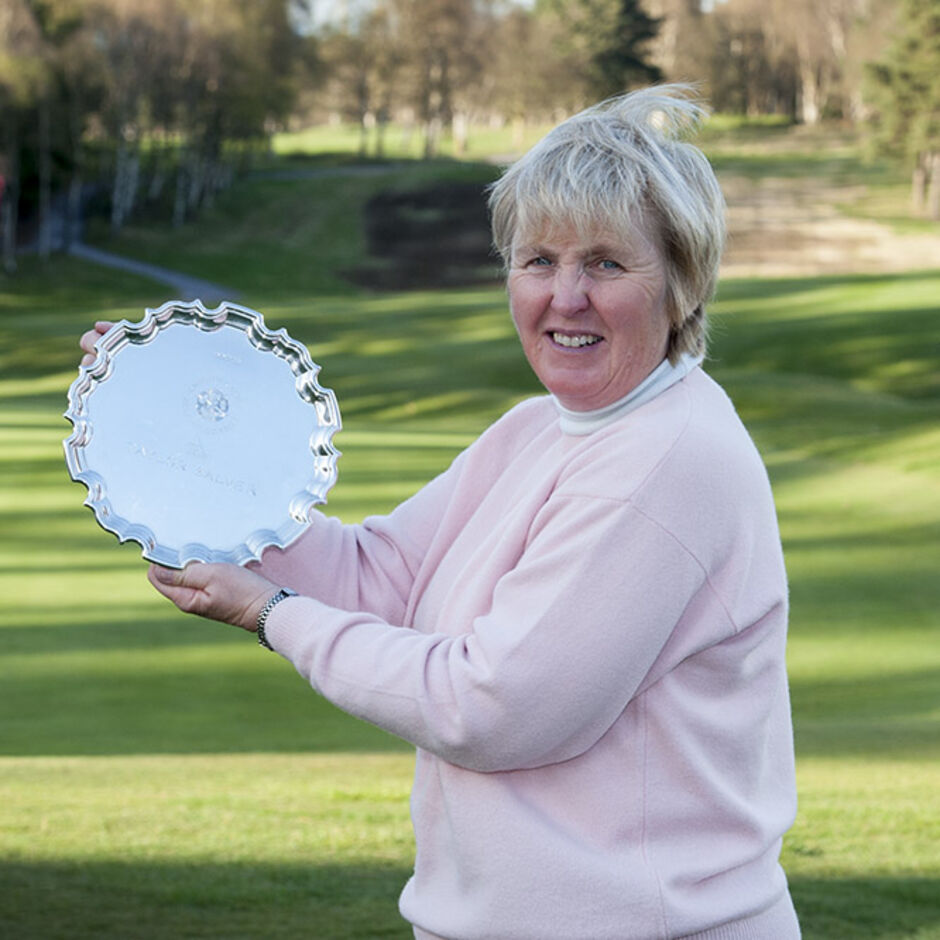 In the semi-finals she met Cath Rawthore of Cheshire. There was never more than one hole between the players and they went to the 20th before the clash was decided in Janet's favour.
The final was another tough and close tussle between two senior internationals. Seven of the first nine holes were halved and the players were all square at the turn. Chris Quinn went ahead when she won the 10th with a par three but Janet won the 12th, 13th and 14th to get to 2up. She lost the short 15th, where she was bunkered off the tee, but came straight back with a fine putt for a winning birdie on the 16th.
On the 17th, needing just a half for the win, Janet bunkered her approach while Chris found the green safely in two. However, she splashed out to within 10ft and rammed home the putt for the half – and the championship title.
Results
Championship:Semi finals
Chris Quinn (Hockley) beat Karen Lobb (Northamptonshire County) 3/2
Janet Melville (Sherwood Forest) beat Cath Rawthore (Sale) at 20th
Final
Melville beat Quinn 2/1
Second Flight: Semi-finals
Katherine Russell (Royal Ashdown Forest) beat Denise Goodacre (Lambourne) 1 up
Debbie Richards (Burhill) beat Jeannie O'Keeffe at 19th
Final
Richards beat Russell 6/5


English Mid-Amateur Championship (Logan Trophy) 2010
"Things like this don't happen to people like me," was the reaction of Danny Holmes after he proved a surprise yet deserved winner of the English Mid-Amateur Championship for the Logan Trophy at a blustery Sherwood Forest.
Holmes, a 45 year old London taxi driver from Kent, fired a closing 73 for 219, nine over par, for a one shot winning margin over Mark Wharton and two clear of Brazilian-born Frenchman Rodrigo Lacerda Soares.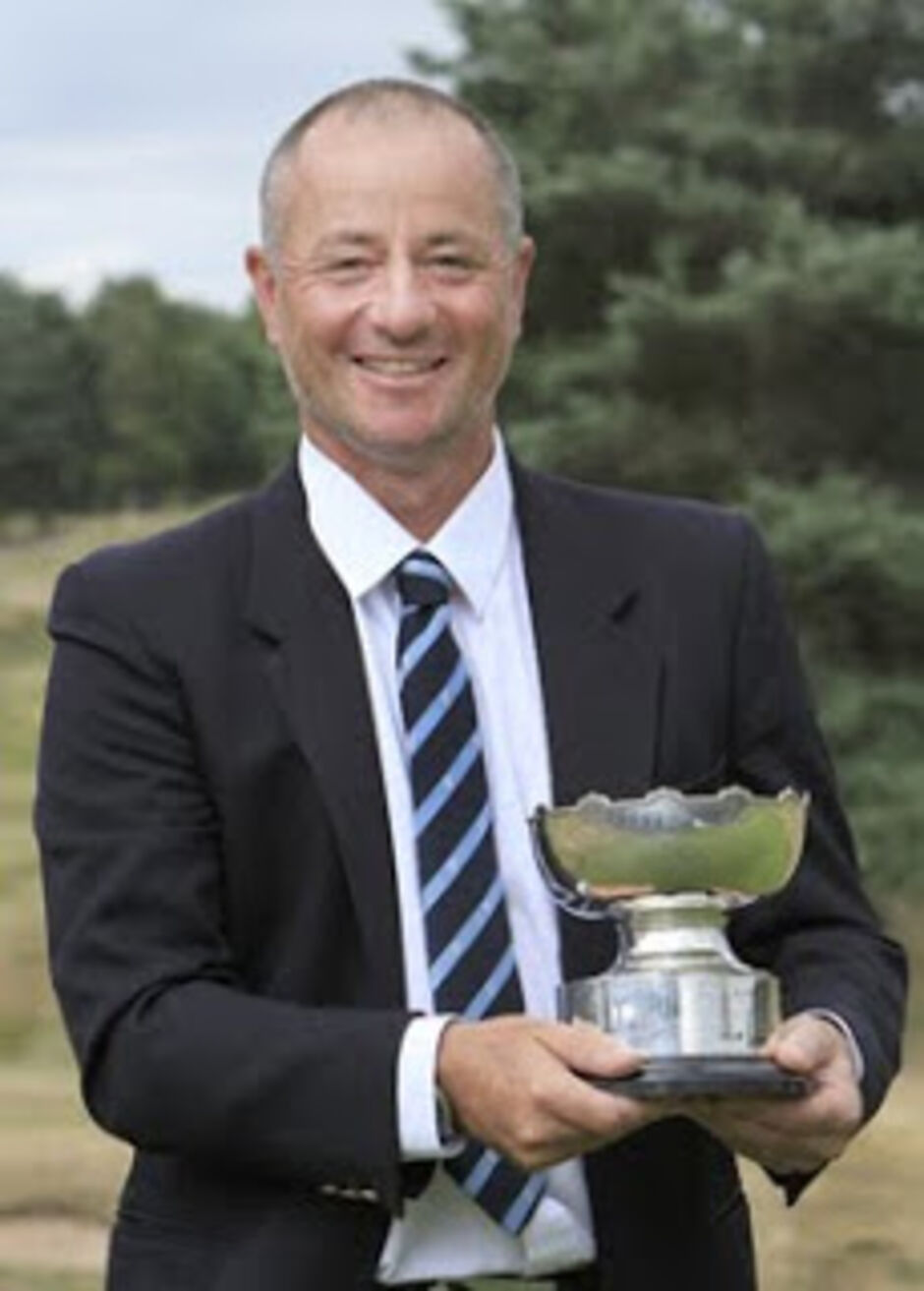 On a brutal day with a tough wind and bouncy fairways, Holmes kept a cool head when many others were losing theirs in the conditions to join an illustrious list of the over-35 champions.
"I just can't believe this," said Holmes. "It's unbelievable for this to happen to me at 45. It's my first time in the Logan Trophy and this is probably the best course I've ever played because you have to play every shot round here. But it was so tough today. It's probably the worst windy conditions I've experienced but I drove the ball well and I never missed a putt inside five feet all week."

The rest of the field suffered in the wind which made it a pleasant day for spectators but an endurance test for the players. Sherwood Forest was at its brutal best and spared no one especially over the back nine, which is a challenge in calmer times.
Leading Scores
Danny Holmes (Langley Park) 72 – 74 – 73 = 219
Mark Wharton (John O'Gaunt) 71 – 75 – 74 = 220
Rodrigo Lacerda Soares (France) 71 – 73 - 77 = 221
Martin Young (Brokenhurst Manor) 75 – 74 – 73 = 222
John Longcake (Silloth on Solway) 77 - 70 - 75 = 222


English Boys Championship (Carris Trophy) 2006
An aggregate of nine under par on the final day saw Darren Wright storm to a thrilling victory in a record- breaking, hole in one packed Boys under 18 Championship at Sherwood Forest.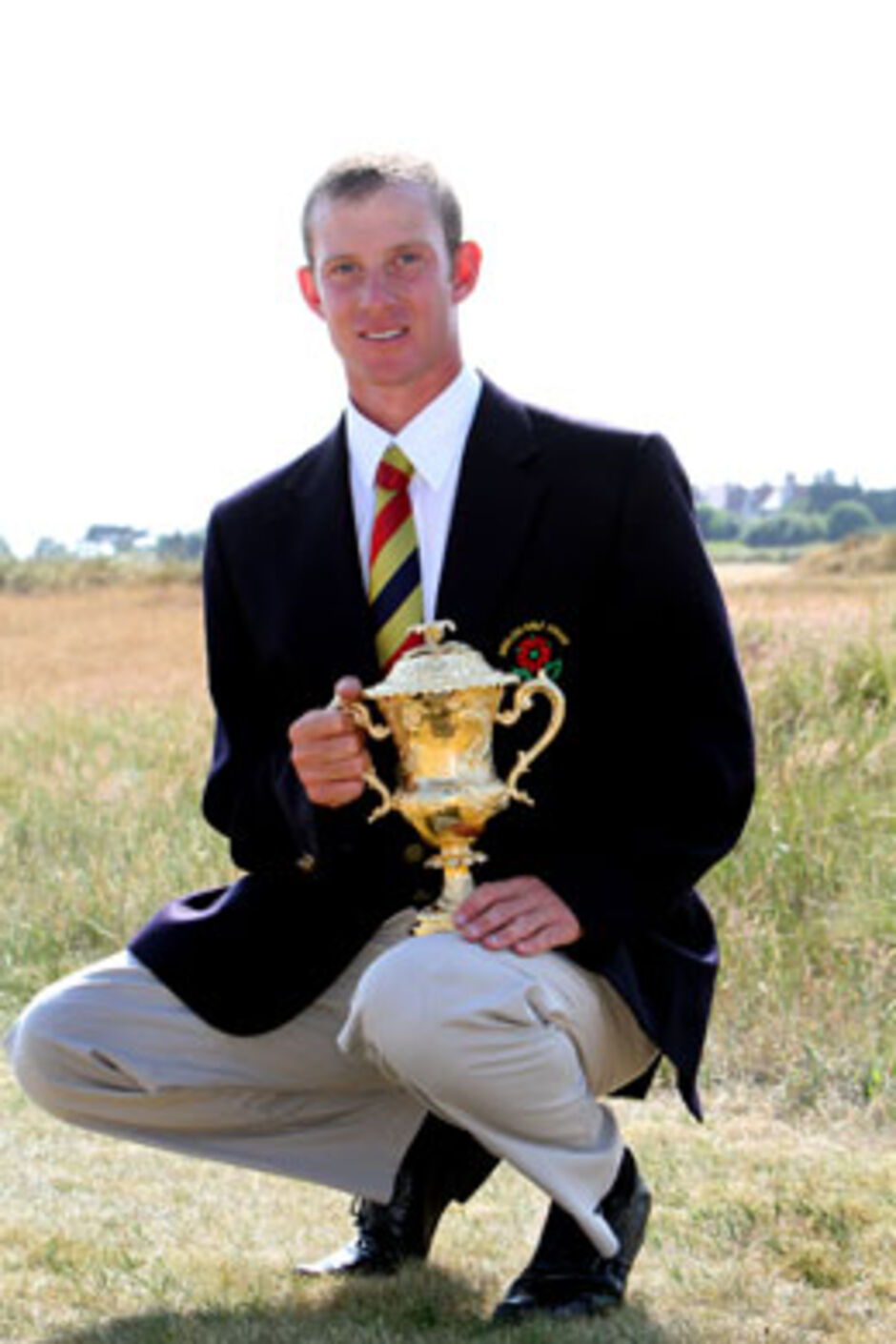 The 17-year-old from Rowlands Castle in Hampshire went round in 64, a course record, and 67 for 276, four under par, to finish three shots ahead of Hugues Joannes, from Belgium, who began the day five strokes ahead. Joannes looked untouchable, but nothing is certain in Golf.
In a week of sky-high temperatures, the magnificent Sherwood Forest course proved a stern test requiring accuracy from the tee, patience and resistance against pulling out the driver too often.
Leading scores
Darren Wright (Rowlands Castle) 71 – 74 – 64 – 67 = 276
Hugues Joannes (Belgium) 69 – 65 – 72 – 73 = 279
Dale Whitnell (Forrester Park) 68 – 72 – 72 – 68 = 280
Juan Sarasti (Spain) 72 – 71 – 69 – 69 = 281
Nicholas McCarthy (Moortown) 71 – 74 – 72 – 65 = 282
Billy Fowles (Wentworth) 70 – 70 – 71 – 71 = 282


English Seniors Championship 2001
Roy Smethurst became the first player to successfully defend the title when he carried off the 54-hole English Seniors Championship at breezy Sherwood Forest.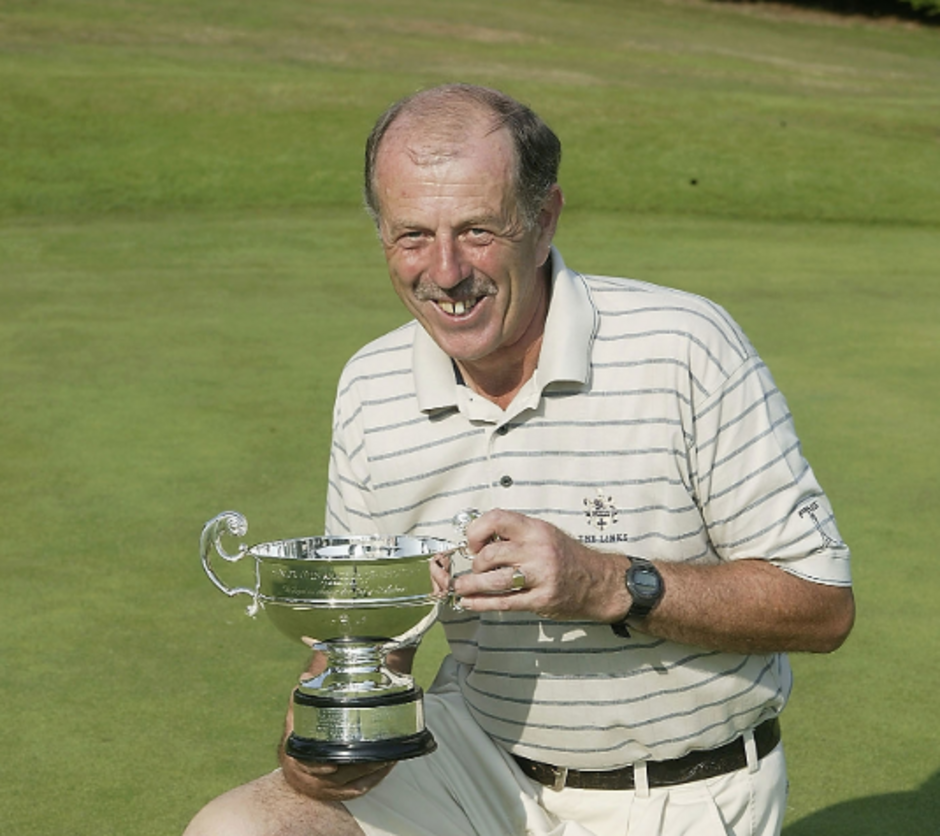 Starting the round a stroke behind Andrew Morrison, his playing partner, Smethurst carded a 75 for a total of 220, and a three-stroke winning margin over Morrison.
The winning score was the highest in the Championship for four years and reflected the quality of the Sherwood Forest and Coxmoor courses as well as the windy conditions, which prevailed for the three days.
Leading scores
R Smethurst (Crewe) 71 – 74 – 75 = 220
A Morrison (Appleby) 74 – 70 – 79 = 223
R Turner (Wearside) 74 – 76 – 75 = 225
J Marks (Woodbridge) 76 – 75 – 75 = 226
J Loader (Beau Desert) 73 – 79 – 75 = 227
D Lane (Goring & Streatley) 76 – 73 – 78 = 227